The MoG Abseil/Rappel gloves have been developed in conjunction with several dedicated users and specialists in tactical rope training and
les mer>>
The RADIX Safety Helmet is comfortable thanks to its four-point LUX Suspension system, which guarantees the helmet fits securely on
les mer>>
The RADIX Bump Multi-Capable Helmet is a versatile solution designed for a range of scenarios, ensuring safety in non-ballistic environments.
les mer>>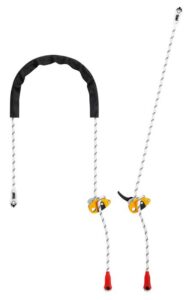 Støtteliner fungerer som en støtte for deg som jobber med begge hender i høy høyde. Det er en line med taulås
les mer>>
Noen ganger oppstår det situasjoner som krever redning eller evakuering, da er det veldig nyttig å ha de riktige produktene
les mer>>
Faste systemer gjør det mulig å utføre arbeid på en sikker måte der det er fare for fall. De er
les mer>>
Fallsikringsblokker er en viktig del av verneutstyret ditt og noe som alltid bør brukes for din egen sikkerhet.
les mer>>
En fallsikringspakke er en samling utstyr som brukes for å minimere risikoen for personskade ved arbeid i høyden. Disse pakkene
les mer>>